For the first hour of Playgarden children arrive, gather, sit and play outside. Some days we work harvesting food for our day's soup, other days we offer "the Girls" fresh greens, clean straw and water, but each day we take time to wake up, transition from home to care, and get reacquainted with each other before beginning our day.
Come little birdies, come Peacocks, come Hens.
Come Redbirds and Bluebirds and Robins and Wrens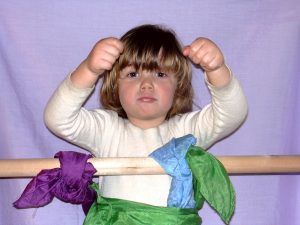 With this little song, we all board the "train" (a very long rope) and move inside. Once there, we've much to do as our caregivers begin their "homemaking tasks" and the children are welcomed to join us. Examples of such homemaking tasks include bread making, chopping vegetables or fruit, folding laundry and grinding wheat. Today Miss Jane has laundry to fold and two children join her. The rest of the children begin to PLAY. Our home and yard are filled with simple and natural playthings that invite the child's imagination to soar. Examples of some playthings are baskets filled with stones, shells, nuts, silk cloths, soft dolls, tree bark, stumps and blocks for building. Offered too are wooden trucks and animals, push and pull toys, a wooden rocking horse, and a playhouse to enliven and engage the children. In addition to the physical environment we've created, another unique feature of our program is our multi-age component which allows plenty of opportunities for older children to model expectations and skills for the younger ones while learning for themselves patience, flexibility, and the role and responsibility of leadership. For the youngest of our children they are surrounded by plenty of helping hands when "things are hard", role models that "show them the way", and a glimpse of "what's to come".
Today we see in one corner a group of four-year-olds hauling playstands and silk cloths and before long we see a family living inside a little house. All seems peaceful as three "mamas" rock their babies and open up a "store" (who says multi-tasking can't be done by children J). Suddenly the babies are hungry and food must be made. Pots are filled with pine cones and smooth rocks and Viola! a birthday celebration ensues…
On the other side of our room two little boys – one just three and the other almost four – have taken over a vacated "sledding hill" created by a "four and three-quarters-year old" (and be quite sure great offense would be taken if that "three-quarters" part was left out). They both have filled pick-up trucks with blocks and are driving them around, up and down the ramp. Although playing side by side the two boys are working independently of each other in what is known as "parallel play". The "just three-year-old" decides to turn around at the bottom of the ramp and head back up. Astonishment is seen in his face when he encounters the other boy heading down "Wait a minute!" he seems to say to himself "Where did this guy come from?" The two face off for a few moments, each holding the other's truck and trying to "encourage" the other to "Move on!". Miss Jane comes over and offers' "I'll be the police officer and hold the traffic back while you boys back up your trucks," she says, "Beep, beep, beep. A truck's backing up watch out!" Both boys smile and join in with the "beep, beep, beeping" as trucks are moved back and new routes are established.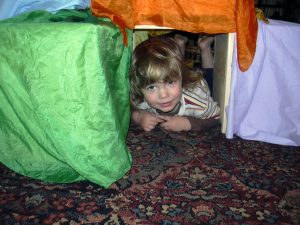 Meanwhile, a waft of our fresh-baked bread fills the house and two children are helping to set the table for a snack.
After a good long time, Miss Jane gathers everyone with a song-
Little children come with me.
Gather round the apple tree.
Roll-a-roll a-ree-oh, Roll-a-roll a-ree-oh,
Roll-a-roll a-ree-oh, Little children clap with me.
A second time around and everyone is gathered and ready to help clean up.
Having had an opportunity to explore individual interests and work/play with friends of all ages, children gather together to join in Circle (nursery rhymes, seasonal songs, singing games) or a story (told in the oral tradition).
After the morning's "busyness" we are now ready to eat! Hands are washed, we gather around our table where "Thanks" is given, and food, that we have worked together to prepare, is joyfully eaten. Once finished, all join in tidying up, and then to play outside.
Our outdoor play is designed to allow the young child long, uninterrupted time to play and explore the outdoors! This unstructured time in nature offers an opportunity to develop a deep and personal connection to the natural world; one guided by the child's own natural curiosity and comfort-level. Being outdoors strengthens a child's executive function and self-regulating skills such as creativity, critical thinking, cooperation, empathy. Having space and opportunities to move one's body develops hand-eye coordination, balance, physical strength, sensory integration and much, much more!
After spending time exploring the fields and forest that surround us, it is, once again, time to eat. Lunch is shared "family-style" and offers opportunities to practice and model social skills and self-care habits.
With full bellies and joyful hearts, we settle down for a quiet rest/sleep time. Once rested, time is given for play before families come to pick up. The end of the day seems to comes quickly!